Last year, we witnessed the meteoric rise of NFT avatar projects and the trend has only increased in 2022. NFT avatars, featuring a unique character, work as cool PFPs (profile pictures). Most of these projects are generative, meaning, the NFT avatars are programmatically generated from a set of traits. These NFTs automatically grant holders access to an exclusive community. Many also offer exclusive perks to their holders, including access to real-life events, merch, games, and much more. 
For all of these reasons and more, PFP projects have become a status symbol among the wider NFT community. In fact, many consider cool PFPs as their digital identity. After all, who wouldn't want to show off their unique BAYC or WoW NFT in all its glory? What's more, some of these NFTs have even sold for millions of dollars. Now, hundreds of avatar projects are dropping every month to cash in on the craze. 
In a market crowded with NFT avatars, it can be daunting to pick the right one for you. So, we curated a list of the best NFT avatar collections for you!
The Big 5: Meet the top blue-chip NFT avatar collections
From OG CryptoPunks to Doodles and more, here are some of the coolest PFP projects you must check out today.
1. CryptoPunks – The OG NFT avatars
Collection size: 10,000

Current floor: 66.3 ETH 

OpenSea trade volume: 854,900 ETH
Founded by Larva Labs in June 2017, CryptoPunks is one of the first-ever NFT avatar collections in the space. The collection of 10,000 NFTs features pixelated humans, apes, zombies, and aliens. To be honest, CryptoPunks set the standard for generative NFT projects that followed and enjoy an unparalleled iconic status in the NFT space. 
Unsurprisingly, many of these have sold for millions of dollars—the highest being the recent $23 million sale of CryptoPunk #5822. Even the lowest-priced CryptoPunk will cost you about $182,000.
2. Bored Ape Yacht Club
Collection size: 10,000

Current floor: 73.5 ETH

OpenSea trade volume: 417,000 ETH
Bored Ape Yacht Club (BAYC) is the strongest contender to CryptoPunks and enjoys a cult status in the NFT community. They even flipped CryptoPunks in December 2021 and continue to do so with a few ups and downs. Actually, when they launched in early 2021, Bored Apes cost a mere 0.08 ETH. Since the launch, BAYC has built a strong community and has growing celebrity backing (Justin Bieber, Snoop Dogg, Jimmy Fallon, and more).
Unlike CryptoPunks, BAYC offers its members a range of benefits. This includes access to virtual and real-life events, metaverse lands, a private digital area called "The Bathroom", and more. They also released secondary collections Bored Ape Kennel Club and Mutant Ape Yacht Club (MAYC). MAYC in itself boasts around 256,000 ETH in trading volume and a 14.8 ETH floor!
3. Cool Cats
Collection size: 9,999

Current floor: 6.67 ETH 

OpenSea trade volume: 90,100 ETH
Cool Cats is another blue-chip PFP NFT project to keep an eye on. These randomly generated NFTs hit the Ethereum blockchain in July 2021. Each NFT in the collection is unique with different traits such as body, hat, face, and outfit. With their simple and cute 2D artworks, Cool Cats is much beloved by collectors across the globe. 
Since its launch, they have struck up some important partnerships, including with TIME magazine and GHXSTS. More recently, they launched Cool Pets—companions to Cool Cats. They are also building Cooltopia, a gamified ecosystem focusing on utility, community rewards, and more brand collaborations.
4. World of Women – meet the coolest female NFT avatars
Collection size: 10,000 

Current floor: 7.2 ETH

OpenSea trade volume: 55,800 ETH
World of Women (WoW) is one of the leading female-led avatar NFT projects in the space. Launched in July 2021, WoW was a breath of fresh air in a market filled with apes, cats, and other animals. In fact, WoW is one of the first-ever NFT collections focusing on diverse female avatars—something extremely lacking in the NFT space. 
The 10K collection topped charts this year after celebrity endorsements from Reese Witherspoon, Eva Longoria, and others. The collection also regularly donates to women-led organisations and sustainability-focused organisations. Apart from this, WoW supports one-of-one crypto artists through its WoW Fund.
5. Doodles 
Collection size: 10,000

Current floor: 9.49 ETH

OpenSea trade volume: 87,400 ETH
Compared to the others, Doodles is a more recent NFT avatar project enjoying blue-chip status. Launched last October, the Pastel-hued, line-drawn characters are one of the most loved NFT avatars in the space. The collection of 10,000 NFTs features humans, cats, aliens, pickles, and more.
Besides, the fully doxxed Doodles team is made up of experts in the field. While Scott Martin ( popularly known as 'Burnt Toast') is an acclaimed Canadian illustrator, Evan Keast and Jordan Castro worked with the OG CryptoKitties NFT collection.
Apart from the team's expertise, several other factors helped in the collection's growth. This includes the creative and diverse artwork, the team's community-first approach, holder benefits, and more. Recently, they even launched a new collection—Space Doodles, for all current holders. 
Top Avatar NFT projects to use as your PFP
CyberKongz
Collection size: 5,000

Current floor: 6.8 ETH

OpenSea trade volume: 51,900 ETH
CyberKongz has established itself in the space as more than a mere NFT avatar project. The project started as a genesis collection of 1,000 CyberKongz in March 2021. Soon after, they released 4,000 Baby CyberKongz. But, it was the launch of CyberKongz VX NFTs that put the spotlight on the project. The 3D Voxel collection of 15,000 models serves as playable NFTs in CyberKongz's metaverses. Currently, the team is working on their much-anticipated upcoming game, Play & Kollect. For this, they have partnered with Chainlink to add randomized in-game features.
Gutter Cat Gang
Collection size: 3,000

Current floor: 5.3 ETH

OpenSea trade volume: 19,500 ETH
Gutter Cat Gang is another cool PFP project in town. With just 3,000 NFTs in all, Gutter Cats are in high demand. Owing to their popularity, the project followed up with several other collections— Gutter Rats, Gutter Dogs, and Gutter Pigeons. All the secondary collections also have a capped supply of 3,000 NFTs each. Besides, the project has built up strong lore set in the year 2050. Basically, cats have taken over the future society after an apocalypse. What's more, the project has its own 'Gutter Merch Collection' featuring dad hats, hoodies, beanies, tees, and more. 
DeadFellaz
Collection size: 10,000

Current floor: 2.02 ETH

OpenSea trade volume: 24,200 ETH
Launched in August 2021, DeadFellaz is one of the top undead-themed PFP projects. The collection of 10,000 green-coloured cartoon zombies is generated from over 300 traits. Thanks to the team's efforts to give back to the community, the project became quite popular in the space. Additionally, the cool PFP collection has its own ERC-20 token, called DEADFELLAZ20 and a "Deadzone 13" in Decentraland. Last month, DeadFellaz launched a new companion collection of 13,000 NFTs called DeadFrenz. 
Best NFT avatars you can get under 2 ETH
SupDucks
Collection size: 10,000

Current floor: 1.1 ETH

OpenSea trade volume: 22,600 ETH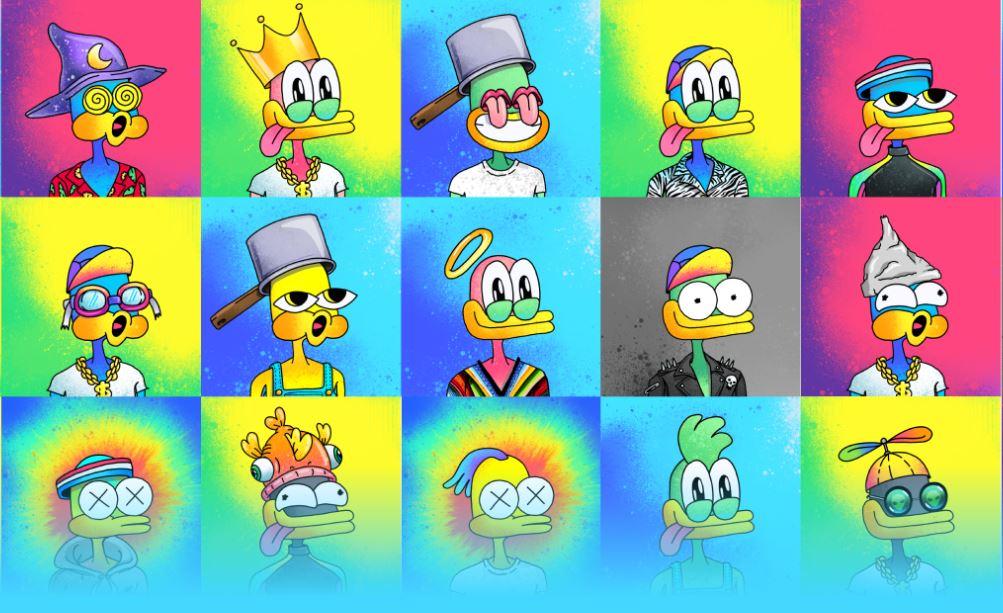 Launched last July by Latin American NFT artist, Franky Aguilar, SupDucks had sold out in 48 hours. The 10,000 unique NFT avatars are generated from hand-drawn traits including mouths, eyes, skins, backgrounds, clothes, and hats. With the simple and adorable artwork, SupDucks immediately struck a chord with the NFT community. With a keen focus on community-building, the team has planned many things for their members, including a merch shop and a 2D SupDuck metaverse. 
Mfers – NFT avatars from Sartoshi
Collection size: 10,021

Current floor: 1.98 ETH

OpenSea trade volume: 25,600 ETH
Mfers is the brainchild of acclaimed meme creator, Sartoshi—a spin on the words 'art' and 'Satoshi'. The collection of 10,021 stick-man NFTs is generated completely from Sartoshi's hand-made drawings. Of course, the Mfers collection too takes inspiration from meme culture. The NFTs dropped in November last year and were such a huge hit that they sold out in under 10 minutes! As of now, Sartoshi is very clear of a couple of things: there won't be a roadmap or any future collections. Yet, Mfers has plenty of fans, some of whom have spent thousands of dollars to own these stick figures.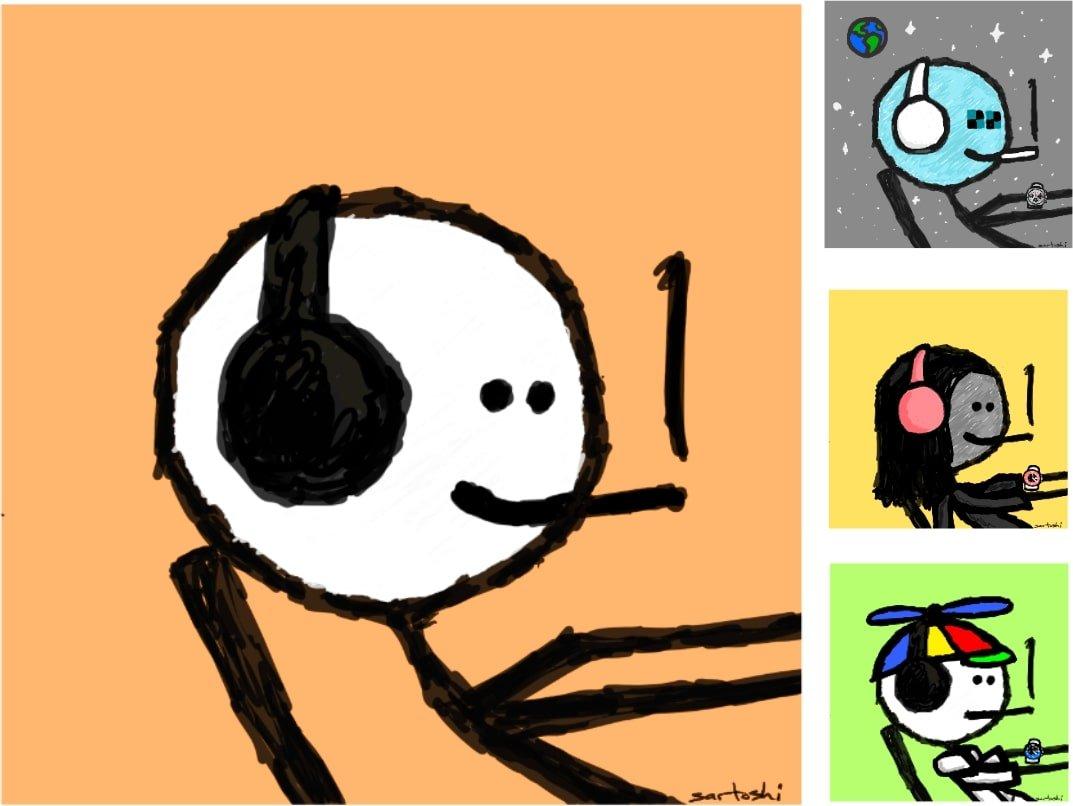 Cryptomories
 Collection size: 10,000

Current floor: 0.59 ETH

OpenSea trade volume: 12,900 ETH
CryptoMories is a collection of 10,000 adorable little skeletons. According to CryptoMories, it is here to "remind you that life is good, that there are a lot of amazingly kind people, and that you are one of them." The project derives its name from "memento mori", a Latin saying which means "remember you die".
Unlike most other cool pfp NFT avatar projects, CryptoMories in itself does not have a roadmap. Rather, it is part of a bigger project called the iwwon project, founded by artist iwwon. In the future, iwwon project aims to deliver "something new and different" to the NFT scene.
Ultimately, when it comes to NFT avatars, you are spoilt for choice. But, whichever cool PFP you choose, make sure to do your own research before taking the leap. Remember, NFTs are speculative assets subject to market risks.